Keynote Highlights at the AIA 2017 Conference on Architecture
At the American Institute of Architect's (AIA) 2017 conference on architecture, there was an amazing lineup of keynotes ranging from world renowned architects to the former first lady of America, Michelle Obama. There are many great reasons for attending the annual AIA conferences on architecture and the keynotes give enough reason to attend.
As the first AIA conference on architecture, I was amazed by the amount of architects congregating in the massive hall of the Orlando Convention Center and at the names on the list of keynotes. On day one, Francis Kere started the morning keynotes and was followed by Michael Murphy, Liz Diller, and Alejandro Aravena on the topic "Anticipate need". In the afternoon, Michelle Obama participated in a discussion about architecture, community involvement, and the issue of diversity in the profession.
During day 2 of the conference, Dr. Eve Edelstein spoke about designing for human experience, Dan Goods and David Delgato spoke about working at NASA's Jet Propulsion Labs as artists, and all participated in a discussion with moderator Michael Bierut on the theme "Anticipate Challenge". Finally, on the last day of the conference, Frances Anderton moderated Nora Demeter, Mike Ford, and Cheryl McAfee on a discussion about racial equity and diversity in architecture followed by Amy Cuddy's keynote focusing on the theme, "Anticipate Change".
Here are highlights from each of the keynotes and the discussion with Michelle Obama.
Francis Kere
Francis Kere started off the morning with a fascinating keynote on his work in his hometown and country, the village of Gando in Burkina Faso in West Africa. At the beginning of his talk, he showed an image of a typical classroom located in his hometown and explained the flaws of its design. Once a student who learned in a similar classroom, Kere understood that the environmental conditions in which the students were learning was uncomfortable and difficult.
Kere spoke about the hot temperatures in these classrooms and how it would reach 60 degrees Celsius (140 degree Fahrenheit) in the summer months. Classes ranged in size, but typically include over 100 students who learn in the same space.
Seeing these conditions and the state of the architecture in his village, Kere set out on a journey to learn more about architecture so that he could bring that knowledge back to his village to design and build a school for children. After graduating from schools in his hometown, he traveled to Germany where he studied architecture.
During this portion of Kere's talk, he told a story about learning enough from the architecture school in Germany to build a school in his hometown. As a graduate student, he was able to design and build the school that he had always envisioned for the children in his village. Once this was complete, he contemplated leaving architecture school because he developed the skills he needed to accomplish his biggest goal. However, his professors got him to stay and complete his education, which he followed through and graduated from the university.
Today, Kere continues to design and build architecture in his hometown to support the needs of the community. He looks at the local resources and skills of the villagers and develops ways of using the local materials in a more efficient way. He constantly holds meetings with everyone in the village to show them how a new method of construction would work. Although there's often a resistance to trying something new, Kere continues to prove that these newer construction methodologies will create resilient and comfortable architecture that supports the needs of the occupants. Ultimately, the village agrees and Kere works with the local builders to construct all of the architecture.
An element throughout Kere's projects that I found to be fascinating is his use of clay pots for some of these new construction methodologies. In one of his buildings, clay pots were cut in half and added to the formwork and rebar of the concrete roof of the building. Once the concrete was poured, the clay pots created voids in the roof and ceiling, which allows sunlight to reach the ground in this covered area of the building.
In another project, Kere places large clay pots beside newly planted trees and fills it with water. Over time, the clay pot will release the water into the soil and keep the tree watered throughout the year. Without this simple system in place, Kere would've had to design the plumbing system that would automatically water the trees. If the plumbing system stopped working, the local community would blame his design and ask him to fix the issue. By providing this clay pot solution, the community is responsible for keeping the clay pots filled with water.
Michael Murphy
Michael Murphy's talk focused on Mass Design Group's projects in the areas of healthcare and cultural. At the beginning of his talk, he briefly spoke about the Holocaust and the architect who made the decision of where to locate the concentration camps for Jews. Then, he talked about his childhood and how his father's health conditions and time in hospitals helped him realize that the architecture of healthcare must be thoughtfully designed to heal.
The remainder of Murphy's talk focused on several healthcare projects that Mass Design Group has worked on in various locations around the world. He described some of the major design decisions like having windows with views and a courtyard where patients can spend their time as having a positive influence on their overall health conditions.
At the end of his keynote, Murphy showed renderings of a Jewish museum located at Parliament in London, UK and explained the major design decisions of the project. Within the architecture of this Jewish museum that blends with the surrounding landscape, there will be a pile of millions of red stones from the location that Hitler's architect decided to locate the concentration camps. These stones will be on display at the museum and visitors will be allowed to take one home. The stones are a reminder of the millions of victims of the Holocaust.
Liz Diller
Liz Diller's keynote focused on Diller Scofidio & Renfro's well known project, the High Line in New York City where the firm transformed an abandoned railway into a 1.5 mile long park. The High Line is elevated above the street and snakes between, over, and through existing buildings. An outcome of this project is the "High Line effect" which refers to all of the new development that's happening all around the project.
Prior to the High Line's renovation, it was simply an abandoned railway in a neighborhood known for butchers and manufacturing. Over time, nature began taking over the railway and different species of plants grew around the tracks. Today, the High Line offers a place for New Yorkers to sit and simply do nothing.
The success of this project has led to other cities pursuing similar projects that focus on developing parks within dense urban areas. Once the High Line opened to the public, the linear elevated park has seen over 7 million annual visitors and has become a hotspot for tourists. This has attracted developers who are currently developing luxury condominiums and offices along the High Line.
In a city where buildings typically face out to the streets and avoid facing out to the railway, the High Line influences all new developments by providing views of nature. Unfortunately, the cost of living has also significantly increased because of the global attraction of the High Line.
Alejandro Aravena
Alejandro Aravena's keynote focused on the responsibility of architects to design architecture that is between spectacle and socially responsible. For his presentation, Aravena sketched his ideas onto a white board and shared his thoughts through fast and simple diagrams. Throughout his keynote, Aravena focused on one of his projects located in Chile where his firm was asked to design housing for 100 families on a budget of $7,000 per unit.
To solve this issue, Aravena developed multiple design schemes that ranged from high rise buildings to rectangular multi-family houses. Each of these designs would go over the specified budget and/or wouldn't work with the unique plot of land. However, Aravena continued developing more ideas, which resulted in a solution that applied simple math and geometry to the site.
Rather than using rectangles or high rise buildings, Aravena found that if he designed townhomes with a square floor plan, he would be able to fit the units on the site and rotate the homes to follow the awkward corners of the site. Then, he decided to design the structure of each townhome to accommodate future expansion of the house by the family. This meant that the project would provide one bedroom, living room, kitchen, dining room, and bathroom and the other half of the house would simple be a void that the family could choose to fill in the future.
After people began occupying this building, many of them chose to sell their house and move to a different location. Why would they sell their property?
It turns out that the value of each house increased significantly and buyers were seeking houses within the housing complex. Aravena made it clear that the fact that the original occupants, who were families having financial difficulties, sold their house and moved to a different location was a positive and intelligent move for the families.
In fact, the families were able to sell their unit, which were originally valued at $7,000 for over $70,000. This means that families who were in the low income bracket of Chile were now middle class and were able to afford more for their families. This would help them climb the economic ladder and attain a level of equality.
Aravena concluded his keynote by stating that architects need to design buildings for the larger population – 1 million people per week with very little money to be exact. These people will continue traveling to cities in search of opportunities and in hopes of attaining a better life. How can we, as architects, design for this population and provide great living conditions?
Michelle Obama
Michelle Obama's conversation with the president of the AIA, Thomas Vonier, FAIA, focused on the issue of diversity within the profession, working with Tod Williams Billie Tsien Architects on the Obama Presidential Library, and closing the gender gap. Michelle Obama shared her ideas for solving these issues through stories from her past and sharing her thoughts on how architects can contribute.
At the beginning of the discussion, Vonier asked Michelle Obama about her experience working with architects on the Obama Presidential Library and the rumor that Barack Obama wanted to be an architect. This led to a story about Barack Obama's attention to detail with everything in their lives. It turns out that Barack Obama always has an opinion on how something could be better.
Michelle Obama also talked about her experience working with Tod Williams and Billie Tsien and emphasized the fact that the architects are constantly focusing on both the design of the library as well as the adjacent community. This is an important part of the design of the library because it should be respectful of the neighborhood where it's located and design decisions should be influenced by its context.
Then Vonier asked Michelle Obama for her opinion on how architects can solve the gender gap within the profession. She responded with a story about working at a job that was inflexible for mothers and did provided little support for raising a family. As she persevered and continued working, there was a moment where she had so much going on that she decided to stop working and stay at home to care for her daughter.
However, as soon as she made the move, she received a phone call from an employer who was very interested in hiring her for his company. Although she didn't want the position, she decided to go in for the interview and brought her daughter. In addition, Michelle Obama also had a list of demands including a high salary and flexible work hours. She thought that this would influence the employer's decision to hire her, but instead, he agreed to her terms and she began her new job.
Although Michelle Obama had the strength to speak up for herself, she emphasized the fact that everyone should be helping others who don't have this strength. We should be speaking up for one another to receive equal pay, benefits, and flexible hours that support our lives.
Lastly, Vonier asked Michelle Obama for her thoughts on how we can increase the number of minorities in the profession. She shared a story about her past growing up in a lower economic neighborhood in Chicago and talked about going to school and seeing different people from a variety of professions. However, it's rare to see architects, let alone architects of color, as a child going to a public school.
Michelle Obama emphasized her point about how architects need to meet children from a very young age whether it's in a school, library, as a mentor or any other way. This will help them realize that there are more professions out there that they can explore and hopefully become. Most importantly, architects have to enter their communities at various levels and engage with children, teenagers, and young adults.
Architects need to keep in touch with the children that they mentor and guide them through their lives so that they can aspire to be an architect.
Day 2 Keynotes of AIA 2017 Conference on Architecture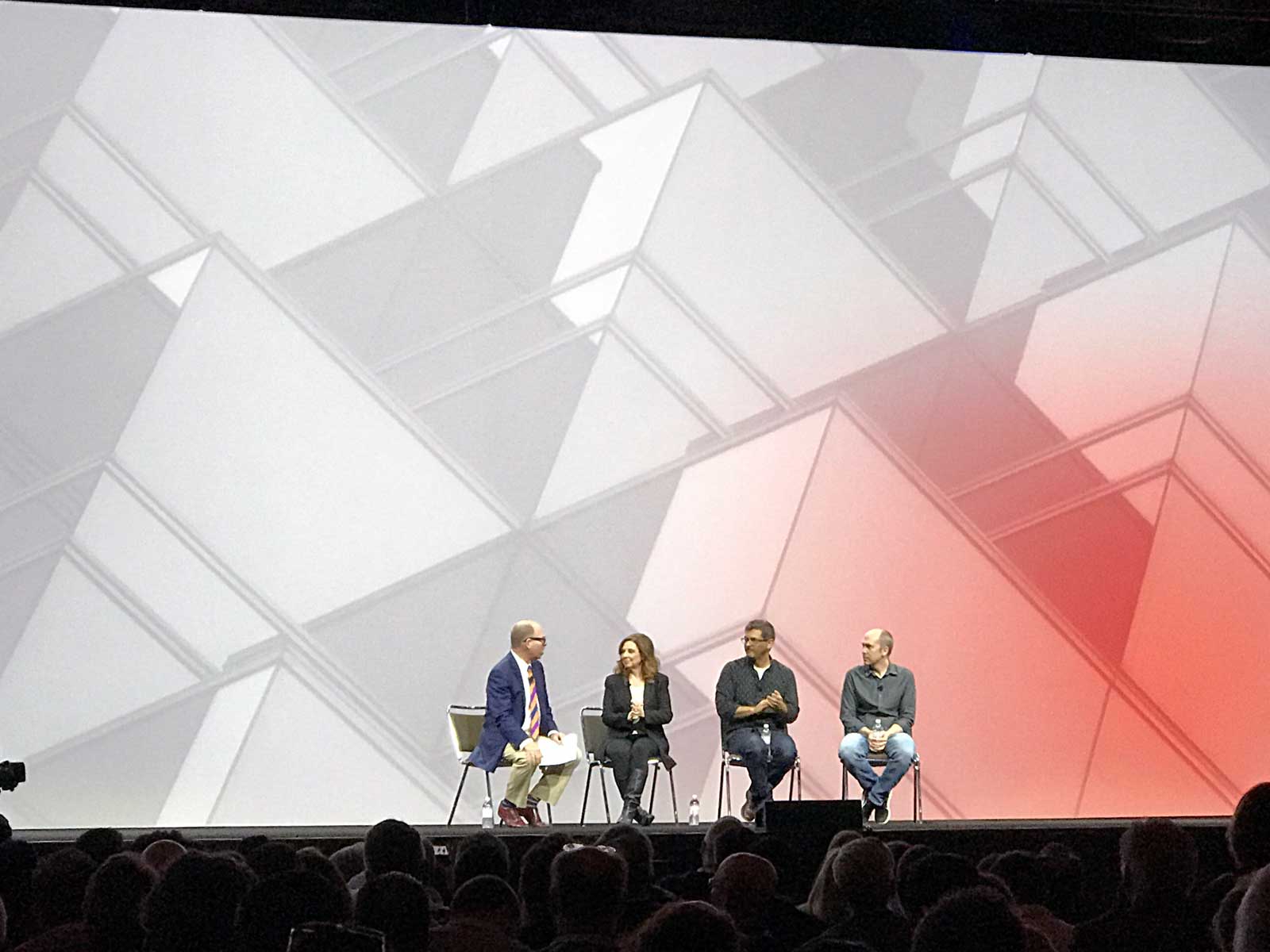 Dr. Eve Edelstein gave the first keynote of the day where she began with a brief primer on how human cognition works within the brain. She explained it through a dynamic visual on the screen behind her that showed an array of lines traveling from the spine to the brain. She emphasized the fact that our brains have as many neurons as the stars in the sky. Her keynote ended with an image on a new platform developed by Perkins + Will that allows architects and clients to immerse themselves within their design. Although the platform provides only a visual connection with the space, it's useful in analyzing lighting levels, proportions of the space, and room and furniture layouts. The recurring theme in Dr. Edelstein's keynote was that having an understanding of neuroscience can influence the design of architecture that supports people and creativity.
After Dr. Edelstein's keynote, Dan Goods and David Delgado from NASA's Jet Propulsion Laboratory took the stage and talked about their experiences at NASA. As artists, they've been tasked with translating complex ideas from NASA into public art and interactive installations. For example, they were interested in creating a dialogue between the spaceships orbiting the earth and people. So they worked with a sound engineer to give the spaceships a distinctive sound and fabricated an outdoor pavilion with the shape of a seashell. Once it was constructed, they found people sitting together on the floor inside of the pavilion with their eyes closed and listening to the sounds of the spaceships.
Lastly, Michael Bierut took the stage as the moderator and facilitated a discussion between Dr. Edelstein, Goods, and Delgado on the theme of "anticipate challenge: design that overcomes". This discussion focused on the power of creative thinking to develop solutions to difficult problems.
Day 3 Keynotes of AIA 2017 Conference on Architecture
For the last day of the AIA 2017 conference on architecture, Frances Anderton moderated Nora Demeter, Mike Ford, and Cheryl McAfee on a discussion about racial equity, diversity, and the influence of music on architecture.
This discussion started with a question to Ford, "what is hip hop architecture?" to which he responded that it's a new mindset that engages communities in the design of architecture that would otherwise be voiceless. He also recommended that the audience listen to the song "The Message" by Grandmaster Flash and the Furious 5, which reveals the impacts that architects and planners have on people's lives. Ford also stated that the lyrics in hip hop are inspired by the context around the artist so if we want to change hip-hop, we have to change the architecture that inspires those lyrics.
Cheryl McAfee, FAIA, spoke about diversity within the profession and emphasized the importance of being engaged in our communities. She discussed the ever changing demographic of our world and the importance of diversity in our profession as a reflection of that demographic change. Otherwise, architects will be left behind as a profession.
Demeter spoke about the social impact of architecture and the traditional workflow of architects where clients come to us for our services. She emphasized that this model has to change because architects need to be proactive and address major issues in our society through architecture.
Amy Cuddy
To end the 2017 conference on architecture, Amy Cuddy gave the final keynote that focused on strength, confidence, and courage. She began her talk by sharing a story about an elevator pitch that she rehearsed over and over for an upcoming conference. One day, she ran into three well known people from her field and they were all taking the elevator together. Once the doors closed, one of them sighed and reluctantly asked for her pitch.
Cuddy's pitch didn't go well. In fact, when the elevator doors were nearly shut, one of the people said it was the worse pitch they've ever heard.
She realized that the pitch was a failure because she was spending all of her time focusing on her anxiety, regret, and not being present. Due to her self-doubt, she was projecting this emotion to the three people in the elevator through her body posture, facial expression, and voice. Instead, she should have been confident in herself and present with her presentation so that she would project an aura of confidence and positivity.
Cuddy mentioned that venture capitalists are able to quickly judge if they'll support a new project based on their sense of whether or not the person giving the pitch believes in their own product. If they sense that the person wouldn't buy their own product, they immediately decide not to fund the project.
Later in her talk, Cuddy gave examples of her research projects that looked into the effects of body posture on the performance of people at interviews. She found that the people who constantly contract their body are more likely to fail at an interview whereas people who expanded and took up more space were more likely to do better at an interview.
She also discovered this to be true with animals and gave an example of a horse that was afraid to gallop with other horses. People believed that this horse would be the leader of the pack because of its body and muscle structure. To solve this issue, the horse's trainer decided to get the horse to take on a powerful pose and walk for a month. After a month of this training, the trainer brought the horse back into the group and he became a leader of the pack.
Cuddy explained that the body and mind are connected so whatever posture we take on will influence how we feel, which will be projected onto others. At the end of her talk, she mentioned that confidence doesn't require arrogance. Cuddy concluded her talk with a powerful statement to answer the question that she's often asked, "How do you get more women in the boardroom?" Her answer was "Start Early. Teach your daughters to expand, to take up space, to express their ideas, to show their strength, unapologetically."
Conclusion
The AIA 2017 conference on architecture was filled with fantastic keynotes and moderated discussions with distinguished people from all over the world. Their answers to these themes generated so many conversations throughout the day among the 16,000 architects who were in attendance. As the first AIA conference that I've ever attended, the keynotes and moderated discussions were enlightening and served as a reminder that we, as architects, have a social responsibility both in the architecture that we design, the societies that we influence, and the social dynamic of our profession.